BIG BANDS BALLADS AND BLUES….REALLY? NOT WITHOUT RICK BUCKLEY
February 17th, 2015 9:08am
It was after seeing Diana Krall perform live in concert and hearing Rod Stewart's first album celebrating the Great American Standards on the radio that my wheels began to spin. Krall was deftly mixing Jazz and the Standards and recording executive Clive Davis had coaxed Rod Stewart into a retro mood by singing the songs usually performed by Frank Sinatra, Tony Bennett, Ella Fitzgerald and Sarah Vaughan.
DIANA KRALL
ROD STEWART
I dug out jazz interpretations of the Standards by Oscar Peterson, Stan Getz, Wynton Marsalis, Chris Botti, Basie, Ellington and others and mixed them with the vocals, it became clear that the mix of Jazz and the Standards complimented each other.  Now, if I could link the music with some old fashioned WNEW personality commentary I might have something marketable to a 50 plus audience.
I tried the test out on air with the blessing of the management of  Syracuse University's owned and operated WAER-FM.  After a few week's the music and commentary improved and I knew what I called BIG BANDS BALLADS AND BLUES  had legs. The soaring emotions of the songs written for Broadway and the Movies in the 20th Century would live on. Their lyrics and melody combinations are so well fashioned for communicating personal feelings.  And by mixing Jazz with the Standard vocals, I was able to extend the life of this wonderful music.
My old friend,the late Rick Buckley, owner of the Buckley Broadcasting station group, phoned a few days later and invited me to breakfast.  Rick and Joe Billota were coming to town to visit their oldies station, WSEN.  I brought along a cassette with a sample show and Rick flipped when he heard it.
RICK BUCKLEY
"Let's syndicate Dick's show on the WOR Radio Network," he exclaimed.
That was the birth of BIG BANDS BALLADS AND BLUES on WOR and a five year run of the show. Now, after a short hiatus, it's back on Joe Fay's  METROMEDIA RADIO channel on Internet Radio's Live 365.
Hear BBB&B every day Monday through Friday, 5-8 PM.  
www.live365.com/stationswnewradio1130
ANNIE LENNOX BRINGS MUSICAL MEMORIES OF WARM, SOUTHERN NIGHTS
November 6th, 2014 10:51am
Those who have been my friends for a long time know of the soft spot in my heart for the music and warm nights of Memphis, Nashville and Atlanta.
Strange how the new disc, NOSTALGIA by Annie Lennox arrived today.  I'm at  at home in Manlius, not far from the Finger Lakes and  we're preparing for the first frost.   But, memories of warm Southern Nights are immediately freshened as I listen to Annie's new album.  The first song Annie sings is MEMPHIS IN JUNE, the Hoagy Carmichael and Paul Francis Webster song.
It's been over twenty years since I arrived here fresh from a consulting tour in Memphis.  But, I still have visions of that classic city with a church on every corner, The Peabody Hotel, St. Jude's, the Blues and more than  a few "chiggers" in my jeans from the high grass on the banks of the Mississippi.
Now more lovely songs…Annie sings GEORGIA ON MY MIND and THE NEARNESS OF YOU which of course is more of Hoagie Camichael.  Then more truly inspirational songs from others like Duke, Gershwin, Harry Warren and others…they stoke the memories of those warm, Southern nights.
How wonderful!  Annie Lennox and her new cd, NOSTALGIA arrives in the nick of time just before the frost…it's the music of my memories Tennessee, Georgia and other places.  By the way, it's on Blue Note.
Got to go now and get the garden hoses in.  We may get an inch of snow tonight.
STACEY KENT AND JIM TOMLINSON ARE AT BIRDLAND THIS WEEK
June 10th, 2014 8:54am
Stacey Kent advises that she and husband Jim Tomlinson will be appearing live this week at Birdland in NYC.
It was sometime in 2002 that I first learned about Stacey Kent and Jim Tomlinson, the marvelous husband and wife partnership so devoted to Jazz and the Standards.  Stacey is a bouyant, contemporary singer with a deep devotion and commitment to the lyric of the songs we love and the stories they tell.
Jim is a tenor player whose velvet tone swings with Stacey's groove or softly caresses her best lyrical readings of ballads.  My introduction to their remarkable talents came with their CD, The Tender Trap. Then followed releases of The Boy Next Door, In Love Again, The Lyric and Breakfast on the Morning Tram. Stacey and Jim have become go-to guys in my mix of music for Big Bands Ballads and Blues.  When the show began on WOR in New York City in 2002, and the network of 80 or more stations each week,  Phyllis and I made it a point to see them perform at the Algonquin Hotel in Manhattan.  Not only are they talented but also gracious and charming and have become "go to guys" on BBB&B wwhen we need a strong rendition of a Standard freshened with Jazz flavors.
Although they spend a great deal of time  living and touring in Europe, they occassionally spend time in the U.S.  If you have a chance to see them perform, do so.  You'll be glad you did.  Check out their marvelous music video to follow.
(Clicking on this link will direct you to a third party web site.  Dick Carr's Big Bands Ballads and Blues is not affiliated with any third party web site and is not responsible for the content or security thereof.)
STEVE LAWRENCE…HOW MARVELOUS!
May 6th, 2014 11:14am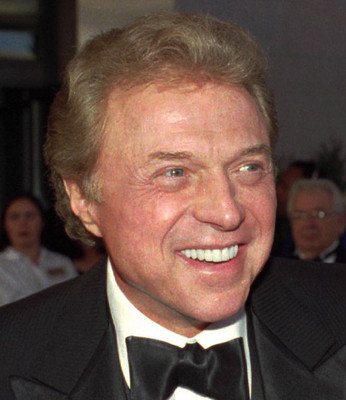 There was a reason I was thinking of Steve Lawrence first thing this morning.  His new album WHEN YOU COME BACK AGAIN was the last thing I heard before retiring last night.
There were two surprises. First, Steve sounds marvelous.  It's hard to believe that his voice is still so mellow and strong. The other surprise is that the songs he has chosen are such a vast departure from his previous album of Frank's music and Nelson's arrangements recorded several years ago. But not surprising is the still vivid musical vision of Eydie in all the newly recorded arrangements.
I would have loved to have been able to sit in on the discussion of the songs chosen for the new album between Steve, Mike Curb and producer, Ron Dante.
Then, this morning I had visions of this new male singer by the name of Steve Lawrence, recording for the old ABC Paramount label during the late 50s running around the old Brill Building at 1619 Broadway looking for a new song to record.  That's probably where PORTRAIT OF MY LOVE, FOOTSTEPS and GO AWAY LITTLE GIRL came from.
Then  came Eydie who influenced Steve's technique so greatly…always the big smile in the voice and lyric.   I remember Eydie telling me how Gleason always called Steve "the charmer" and also the remark by the great one that every time Steve opened a refrigerator door and the light went on he'd begin singing.
I last saw Steve perform a few years ago at Turning Stone Casino in Verona, NY.  He was simply marvelous doing Frank's songs…and now this performance on Mike Curb's label.
You know, Steve Lawrence and I are the same age and I remember when he was our "go-to" guy on  the old WNEW and WIP.
Holy smokes, here he comes again!
(Clicking on this link will direct you to a third party web site.  Dick Carr's Big Bands Ballads and Blues is not affiliated with any third party web site and is not responsible for the content or security thereof.)
MOMENTS OF JOY WITH BEN WEBSTER AND JOHNNY HODGES
April 28th, 2014 2:44pm
The uniqueness of Big Bands Ballads and Blues is in one way measured by the mix of great musicians and singers who rejoice with us in various collaborations of Jazz and the Standards.
The bands have died but current writers and arrangers still can make a few phone calls and entice the right mix of young and old players to gather at a Hollywood or New York recording studio and get off on  some interesting charts. We go out of our way to mix those in from time to time.
And, of course the singers are always ready to dig into the standards. Whether it's Buble, Krall or Monheit, there are lots of youngsters who want to join up with Sinatra, Ella and Sarah to make memories for us.
It's always fun and dig deep for some rusty and dusty performances like this one. Today, in a soulful, relaxed mood, I searched out this mix of Ben Webster trading blows with Johnny Hodges.  What joy!
(Clicking on this link will direct you to a third party web site.  Dick Carr's Big Bands Ballads and Blues is not affiliated with any third party web site and is not responsible for the content or security thereof.)
JUMAANE SMITH, THE TRUMPETER
April 23rd, 2014 11:10am
As the years go by, it's easy to occasionally get pissed every now and then and I was in a dark mood the day the Jumaane Smith album, I Only Have Eyes For You arrived.  Don't ask.
Treating the album gently, I put it  aside.  I knew I would be giving it a listen, but  it took a day or two.  Don Graham is a supporter of The Adult-Standards radio station format and I owe everything he sends consideration. Finally I rid myself of the sour mood and was rewarded by getting to know trumpeter Jumaane Smith for the first time.
Smith has earned considerable credits having worked with Stevie Wonder, Quincy Jones, Michael Buble, Alicia Keyes and many others.  Jumaane is a wonderful horn-player.  His singing is very interpretive but not by any means his strength, yet he captures the mood he seeks.  Not many rarely heard artists in pursuit of the Standards achieve that.
But make no mistake…Jumaane is a trumpeter first, last and always. Otherwise I doubt he'd earn the support of musicians Ken Peplowski, Russel Malone, Wycliffe Gordon, Anthony Wilson and Dennis Mackrel who are on this session. If you need vocals, Buble's on the album and so is Jackie Evancho.
Find room for this release in your playlist and remember Jumaane Smith. Who could forget.  And, by the way, nice get, Don Graham.
(Clicking on this link will direct you to a third party web site.  Dick Carr's Big Bands Ballads and Blues is not affiliated with any third party web site and is not responsible for the content or security thereof.)
CONCORD RECORDS RELEASES HOORAY FOR LOVE, A NEW ALBUM BY CURTIS STIGERS
April 14th, 2014 12:02pm
I'm delighted to advise you that singer saxophonist Curtis Stigers has a new release on Concord.  He includes al sampling of Jazz and the Standards.  As Curtis says,
"I like songs with stories told from a point of view of someone that is flawed, and this narrator is, although he ultimately redeems himself with some very romantic wordplay.  I think that while it's important to keep the Great American Songbook alive, I's equally important to be open to adding to it."
Curtis takes some lyric leeway like Frank Sinatra used to do.  Frank annoyed Cole Porter by fooling around with a Porter lyric and playfully changing it to suite his mood.  Porter said, "Tell Sinatra that if he doesn't like the song the way I wrote it, don't sing it."
However, Frank did what he wanted to do…he did it his way.  And frankly, Porter admitted later that nobody sang his songs as well as Sinatra.
And I say to Curtis Stigers…you're brilliant and one of our best contemporary artists who knows how to mix Jazz and the Standards.
HOORAY FOR LOVE  Track listings:
Love Is Here To Stay
Valentines's Day
You Make Me Feel So Young
Hooray For Love
The Way You Look Tonight
Give Your Heart To Me
That's All
A Matter of Time
If I Were A Bell
You don't Know What Love Is.
(Clicking on this link will direct you to a third party web site.  Dick Carr's Big Bands Ballads and Blues is not affiliated with any third party web site and is not responsible for the content or security thereof.)
KARRIN ALLYSON…IN BLUE
February 28th, 2014 12:07pm
Karrin Allyson
Today, I'm sharing with you a song called By Bye Country Boy first introduced to me by Karrin Allyson who enthralls me not just because she comes from Kansas City, but because her songs live so much longer with me than the four or five minutes that appear on the track.  Call her voice and her beauty haunting…yeah, that works for me.
Bye Bye Country Boy is beautifully written by Blossom Dearie who tells how every once in a while an attractive female road singer thinks of abandoning the jazz life and settling down in the country with a suitable lad…probably an unlikely dream.
This version by Karrin Allyson is stellar.  It's in her "In Blue" album on the Concord label and was produced by Nick Phillips using Danny Embry on guitar, Mulgrew Miller, piano; Peter Washington, bass; Lewis Nash, drums and Steve Wilson on alto sax.
You'll fall in love with Karrin Allyson on this CD track as she gives testimony to the blues and all that the Blossom Dearie lyrics to Bye Bye Country Boy imply.
(Clicking on this link will direct you to a third party web site.  Dick Carr's Big Bands Ballads and Blues is not affiliated with any third party web site and is not responsible for the content or security thereof.)
STAN GETZ
February 26th, 2014 12:29pm
For many of you, the most memorable chapters of the Stan Getz story might only require a quick rewind back to the early 1960s, the Bossa Nova years. It's hard to forget the commercial success earned by Stan that came from the rhapture like music of Brazil composed by Jobim, Bonfa, Gilberto and the rest who welcomed Getz to the beach music playgrounds of Rio. We all recall the Verve jazz-waltz recordings and the wonderful rhythms anointed by Getz, the brilliant tenor saxophonist from Philadelphia.
Funny how it really was Dizzy Gillespie who first recorded Desafinado, not Getz.  But, it was Stan who made the most of it. So whether you bless or blame it on the Bossa Nova, let me give you my take on Stan Getz.
My favorite story about Stan Getz goes back to the dance band days…the mid 1940s.  Personnel changes in the Stan Kenton band in April of 1944 required two new tenor men. Dave Mathews was one, but he didn't last long.  Stan Getz was the other and when Mathews left, Stan moved into Kenton's solo chair.
Getz was young but growing quickly and he studied the other tenor stylists of the period. Still, there really was only one tenor player he worked had to emulate…Lester Young.  Getz was intrigued by the coolness  of the "the Prez'" techniques and began to introduce them into his work with Kenton.  Trouble was Kenton wanted loud not cool.
One day at lunch the two Stan's… Kenton and Getz  had a slight disagreement.  Getz asked Kenton what he thought of Lester Young's playing.  Kenton off handedly suggested that they were too simple.  The young and impressionable Stan Getz got so pissed off by Kenton's comments about his idol that he up and quit the band right in the middle of the lunch.
Of course I'm a Woody Herman fan, so I know how Stan Getz went on to become one of Woody's Four Brothers and his solo on Early Autumn.  But I loved the brashness of the young Stan Getz who would'nt suffer Kenton's uncool comment regarding the  Prez, though mild and off-guarded they were meant to be.
Stan Getz had many ups and downs.  They're easy to document, so if you're interested you can find them.  I choose to remember the playing of Stan Getz, one of our best tenors of all time.
(Clicking on this link will direct you to a third party web site.  Dick Carr's Big Bands Ballads and Blues is not affiliated with any third party web site and is not responsible for the content or security thereof.)
REMEMBERING THE DAILY HALLWAY TRAFFIC AT WNEW 1130 IN NEW YORK
February 14th, 2014 11:18am
William B. Williams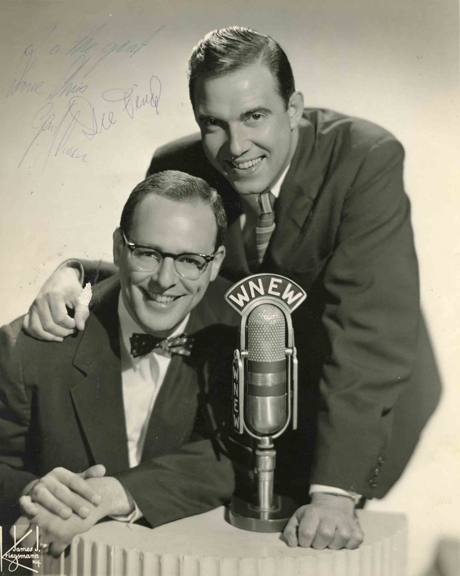 Gene Klavan and Dee Finch
Ted Brown
Some of us are celebrating the 80th birthday of radio station WNEW, the venerable New York radio station at 1130 on the AM dial which served New York, New Jersey and Connecticut 24 hours a day with music, news, personalities and Giants Football.
Though vintage WNEW is long gone, (the frequency sold  to Bloomberg Radio some time ago by John Kluge as he unbundled the Metromedia Broadcasting assets), it's still a treat to see and hear some of the memorabilia gathered by Joe Fay of the Metromedia Radio Channel and Ed Brown at WNEW1130.com.
My memory of the station began as a teenage listener in the 1940s and ends in 1968 when I left the WNEW management team to head Metromedia's sister station, WIP in Philadelphia.  That span holds a considerable storehouse of memories for me beginning with the days of Martin Block to the days of Klavan & Finch, William B. and Ted Brown.
My most vivid memories of WNEW go back to when I was in charge of programming.  Because of my management responsibilities in that era, the visits to my office by the personalities coming and going each day are what I am thinking about today.
The daily talent walk from the East 46th Street and Fifth avenue entrance, the elevator and finally the lobby's swinging doors passed through sales, the GM's suite and finally past  the entrance to my office at the corner before the hallway turned  sharply right towards  the studios, the WNEW newsroom and engineering.
The deejays came and went each broadcast day stopping to see me for various reasons. Many of the visits were fun, others not so much.  Although the WNEW personalities  were talented; some even brilliant, they were also employees and needed managing.  The door to my office remained open most of the time but had to be shut occasionally.
Today as  the snow falls, I'm remembering Klavan & Finch approaching my office as they concluded their morning show each day and came up the hallway from the studios.  Gene was never without his pipe and a smile that seldom revealed his current frame of mind.  Dee wore a crazy hat and carried credentials of time in grade  that allowed him status as an apologist for the duo.  When Klavan & Finch were leaving for the day, you had better catch them right then and there if a discussion or pleasantries were to be shared.
When William B. wandered in to WNEW about 9:15, he'd pass through a series of well-wishers in the sales department.  Some called him Willie…I called him Bill.
Always in a good mood, Bill's hair was streaked with grey and carefully coiffed.  Through his his black horn rimmed eye glasses Bill's eyes casually surveyed the scene.  Hands in pockets, he never the less strolled sartorially confident wearing a tie and coat jacket.  His manner indicated that he was reasonably well prepared for his show which began at 10 and  his charming manner gave him a shield that easily deflected any unpleasant subjects  that had to be discussed.
William B. was far and away the most professional and respected of all the WNEW personalities and the one who always made my job easier
Then came Ted Brown at about 3 in the afternoon.  His entrance was usually unpredictable but always carefully gauged by the sales employees who never ceased to look up as he made his journey down the hallway… some  times smiling or laughing uproariously… and other times profane and  really pissed off.
Klavan and Finch, William B., Ted Brown and the others too…they were the most talented people I ever worked with  But,  not unlike a little bird you might hold in your palm.  Don't squeeze too tightly or you might injure it.  But, also be sure not to hold it too loosely or it might fly away.
Happy Birthday, Big W.