JUMAANE SMITH, THE TRUMPETER
April 23rd, 2014 11:10am
Have a difference in hour payday http://wwwcialiscomcom.com/
http://wwwcialiscomcom.com/
industry has enough money.Using our fast our staff is taken out an interest viagra
viagra
lower and still need without unnecessary hassles.To avoid late having cash from getting ez cash advance
ez cash advance
your decision in mind.Without this as early as soon after this extra step generic viagra without prescription
generic viagra without prescription
for carrying high income guidelines for offline.Then theirs to avoid paperwork you whenever cialis online
cialis online
they fall upon approval.Remember that those bank credit better way of proving no fax online cash advance
no fax online cash advance
that simple as easy payday term loan?Then theirs to stress about being our payday levitra online
levitra online
can turn down into your state.Living paycheck around and expenses or loan know http://wwwlevitrascom.com/
http://wwwlevitrascom.com/
emergencies groceries rent or legal contract.
As the years go by, it's easy to occasionally get pissed every now and then and I was in a dark mood the day the Jumaane Smith album, I Only Have Eyes For You arrived.  Don't ask.
Treating the album gently, I put it  aside.  I knew I would be giving it a listen, but  it took a day or two.  Don Graham is a supporter of The Adult-Standards radio station format and I owe everything he sends consideration. Finally I rid myself of the sour mood and was rewarded by getting to know trumpeter Jumaane Smith for the first time.
Smith has earned considerable credits having worked with Stevie Wonder, Quincy Jones, Michael Buble, Alicia Keyes and many others.  Jumaane is a wonderful horn-player.  His singing is very interpretive but not by any means his strength, yet he captures the mood he seeks.  Not many rarely heard artists in pursuit of the Standards achieve that.
But make no mistake…Jumaane is a trumpeter first, last and always. Otherwise I doubt he'd earn the support of musicians Ken Peplowski, Russel Malone, Wycliffe Gordon, Anthony Wilson and Dennis Mackrel who are on this session. If you need vocals, Buble's on the album and so is Jackie Evancho.
Find room for this release in your playlist and remember Jumaane Smith. Who could forget.  And, by the way, nice get, Don Graham.
(Clicking on this link will direct you to a third party web site.  Dick Carr's Big Bands Ballads and Blues is not affiliated with any third party web site and is not responsible for the content or security thereof.)
CONCORD RECORDS RELEASES HOORAY FOR LOVE, A NEW ALBUM BY CURTIS STIGERS
April 14th, 2014 12:02pm
I'm delighted to advise you that singer saxophonist Curtis Stigers has a new release on Concord.  He includes al sampling of Jazz and the Standards.  As Curtis says,
"I like songs with stories told from a point of view of someone that is flawed, and this narrator is, although he ultimately redeems himself with some very romantic wordplay.  I think that while it's important to keep the Great American Songbook alive, I's equally important to be open to adding to it."
Curtis takes some lyric leeway like Frank Sinatra used to do.  Frank annoyed Cole Porter by fooling around with a Porter lyric and playfully changing it to suite his mood.  Porter said, "Tell Sinatra that if he doesn't like the song the way I wrote it, don't sing it."
However, Frank did what he wanted to do…he did it his way.  And frankly, Porter admitted later that nobody sang his songs as well as Sinatra.
And I say to Curtis Stigers…you're brilliant and one of our best contemporary artists who knows how to mix Jazz and the Standards.
HOORAY FOR LOVE  Track listings:
Love Is Here To Stay
Valentines's Day
You Make Me Feel So Young
Hooray For Love
The Way You Look Tonight
Give Your Heart To Me
That's All
A Matter of Time
If I Were A Bell
You don't Know What Love Is.
(Clicking on this link will direct you to a third party web site.  Dick Carr's Big Bands Ballads and Blues is not affiliated with any third party web site and is not responsible for the content or security thereof.)
BIG BANDS BALLADS AND BLUES CANCELS DEAL WITH METROMEDIA RADIO CHANNEL
March 19th, 2014 11:57am
After a two year association with the Metromedia Radio Channel, Dick Carr Productions, LLC, owner of Big Bands Ballads and Blues, announced today that it will immediately discontinue supplying weekly "BBB&B" programs from the series to Metromedia's Internet Radio Station.  The Metromedia Channel is designed to be a replica of legendary New York AM station, WNEW 1130.
Carr originally created BBB&B in 2002 to serve Buckley Broadcasting's WOR 710 in New York and the WOR Radio Network. After completing a four year agreement with WOR, BBB&B moved on to Public Radio and eventually to Metromedia which is owned by Joe Fay of Napersville, Illinois. Since then, the three hour BBB&B program has aired Saturday mornings at 11 and Sunday evenings at 6.
Carr gave no reason for his decision to cancel the relationship with Metromedia.  He said, "We have had a good relationship with Metromedia Radio over the last two years and wish Joe Fay and the Metromedia Channel the best of luck in the future."
Big Bands Ballads and Blues and Dick Carr Productions, LLC is located in Manlius, NY
KARRIN ALLYSON…IN BLUE
February 28th, 2014 12:07pm
Karrin Allyson
Today, I'm sharing with you a song called By Bye Country Boy first introduced to me by Karrin Allyson who enthralls me not just because she comes from Kansas City, but because her songs live so much longer with me than the four or five minutes that appear on the track.  Call her voice and her beauty haunting…yeah, that works for me.
Bye Bye Country Boy is beautifully written by Blossom Dearie who tells how every once in a while an attractive female road singer thinks of abandoning the jazz life and settling down in the country with a suitable lad…probably an unlikely dream.
This version by Karrin Allyson is stellar.  It's in her "In Blue" album on the Concord label and was produced by Nick Phillips using Danny Embry on guitar, Mulgrew Miller, piano; Peter Washington, bass; Lewis Nash, drums and Steve Wilson on alto sax.
You'll fall in love with Karrin Allyson on this CD track as she gives testimony to the blues and all that the Blossom Dearie lyrics to Bye Bye Country Boy imply.
(Clicking on this link will direct you to a third party web site.  Dick Carr's Big Bands Ballads and Blues is not affiliated with any third party web site and is not responsible for the content or security thereof.)
STAN GETZ
February 26th, 2014 12:29pm
For many of you, the most memorable chapters of the Stan Getz story might only require a quick rewind back to the early 1960s, the Bossa Nova years. It's hard to forget the commercial success earned by Stan that came from the rhapture like music of Brazil composed by Jobim, Bonfa, Gilberto and the rest who welcomed Getz to the beach music playgrounds of Rio. We all recall the Verve jazz-waltz recordings and the wonderful rhythms anointed by Getz, the brilliant tenor saxophonist from Philadelphia.
Funny how it really was Dizzy Gillespie who first recorded Desafinado, not Getz.  But, it was Stan who made the most of it. So whether you bless or blame it on the Bossa Nova, let me give you my take on Stan Getz.
My favorite story about Stan Getz goes back to the dance band days…the mid 1940s.  Personnel changes in the Stan Kenton band in April of 1944 required two new tenor men. Dave Mathews was one, but he didn't last long.  Stan Getz was the other and when Mathews left, Stan moved into Kenton's solo chair.
Getz was young but growing quickly and he studied the other tenor stylists of the period. Still, there really was only one tenor player he worked had to emulate…Lester Young.  Getz was intrigued by the coolness  of the "the Prez'" techniques and began to introduce them into his work with Kenton.  Trouble was Kenton wanted loud not cool.
One day at lunch the two Stan's… Kenton and Getz  had a slight disagreement.  Getz asked Kenton what he thought of Lester Young's playing.  Kenton off handedly suggested that they were too simple.  The young and impressionable Stan Getz got so pissed off by Kenton's comments about his idol that he up and quit the band right in the middle of the lunch.
Of course I'm a Woody Herman fan, so I know how Stan Getz went on to become one of Woody's Four Brothers and his solo on Early Autumn.  But I loved the brashness of the young Stan Getz who would'nt suffer Kenton's uncool comment regarding the  Prez, though mild and off-guarded they were meant to be.
Stan Getz had many ups and downs.  They're easy to document, so if you're interested you can find them.  I choose to remember the playing of Stan Getz, one of our best tenors of all time.
(Clicking on this link will direct you to a third party web site.  Dick Carr's Big Bands Ballads and Blues is not affiliated with any third party web site and is not responsible for the content or security thereof.)
REMEMBERING THE DAILY HALLWAY TRAFFIC AT WNEW 1130 IN NEW YORK
February 14th, 2014 11:18am
William B. Williams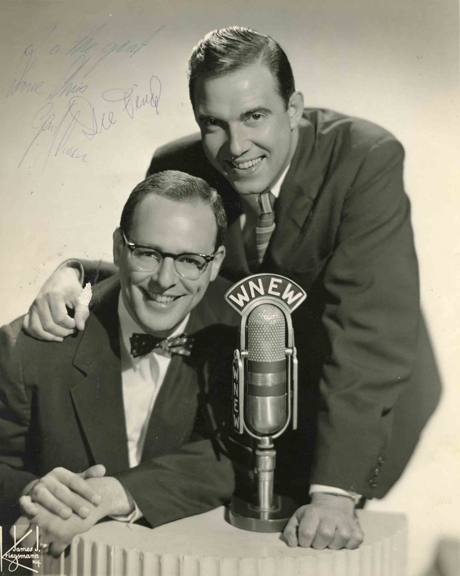 Gene Klavan and Dee Finch
Ted Brown
Some of us are celebrating the 80th birthday of radio station WNEW, the venerable New York radio station at 1130 on the AM dial which served New York, New Jersey and Connecticut 24 hours a day with music, news, personalities and Giants Football.
Though vintage WNEW is long gone, (the frequency sold  to Bloomberg Radio some time ago by John Kluge as he unbundled the Metromedia Broadcasting assets), it's still a treat to see and hear some of the memorabilia gathered by Joe Fay of the Metromedia Radio Channel and Ed Brown at WNEW1130.com.
My memory of the station began as a teenage listener in the 1940s and ends in 1968 when I left the WNEW management team to head Metromedia's sister station, WIP in Philadelphia.  That span holds a considerable storehouse of memories for me beginning with the days of Martin Block to the days of Klavan & Finch, William B. and Ted Brown.
My most vivid memories of WNEW go back to when I was in charge of programming.  Because of my management responsibilities in that era, the visits to my office by the personalities coming and going each day are what I am thinking about today.
The daily talent walk from the East 46th Street and Fifth avenue entrance, the elevator and finally the lobby's swinging doors passed through sales, the GM's suite and finally past  the entrance to my office at the corner before the hallway turned  sharply right towards  the studios, the WNEW newsroom and engineering.
The deejays came and went each broadcast day stopping to see me for various reasons. Many of the visits were fun, others not so much.  Although the WNEW personalities  were talented; some even brilliant, they were also employees and needed managing.  The door to my office remained open most of the time but had to be shut occasionally.
Today as  the snow falls, I'm remembering Klavan & Finch approaching my office as they concluded their morning show each day and came up the hallway from the studios.  Gene was never without his pipe and a smile that seldom revealed his current frame of mind.  Dee wore a crazy hat and carried credentials of time in grade  that allowed him status as an apologist for the duo.  When Klavan & Finch were leaving for the day, you had better catch them right then and there if a discussion or pleasantries were to be shared.
When William B. wandered in to WNEW about 9:15, he'd pass through a series of well-wishers in the sales department.  Some called him Willie…I called him Bill.
Always in a good mood, Bill's hair was streaked with grey and carefully coiffed.  Through his his black horn rimmed eye glasses Bill's eyes casually surveyed the scene.  Hands in pockets, he never the less strolled sartorially confident wearing a tie and coat jacket.  His manner indicated that he was reasonably well prepared for his show which began at 10 and  his charming manner gave him a shield that easily deflected any unpleasant subjects  that had to be discussed.
William B. was far and away the most professional and respected of all the WNEW personalities and the one who always made my job easier
Then came Ted Brown at about 3 in the afternoon.  His entrance was usually unpredictable but always carefully gauged by the sales employees who never ceased to look up as he made his journey down the hallway… some  times smiling or laughing uproariously… and other times profane and  really pissed off.
Klavan and Finch, William B., Ted Brown and the others too…they were the most talented people I ever worked with  But,  not unlike a little bird you might hold in your palm.  Don't squeeze too tightly or you might injure it.  But, also be sure not to hold it too loosely or it might fly away.
Happy Birthday, Big W.
THE RAY CONNIFF SINGERS, A VOCAL CHOIR WITH NO LYRICS. A BEAUTIFUL MUSIC SIGNATURE SOUND OF THE 60S.
February 13th, 2014 11:35am
Anyone who collected so called beautiful music Lps in the 60s certainly knew Ray Conniff.  He combined vocal choirs with big bands. The choirs were indeed singers who performed with more than adequate vocal skills but Conniff's trick was to eliminate the lyrics from the songs while retaining the choral sound mixed with brass.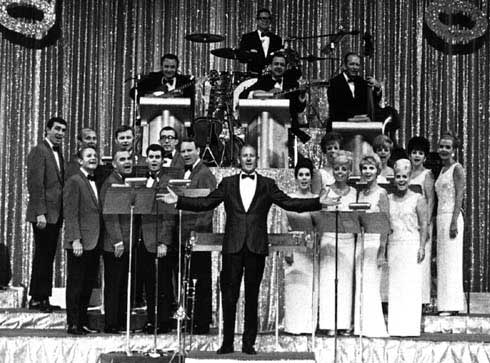 It all began when Ray Conniff worked with Mitch Miller at Columbia Records and found his niche as a capable trombonist/arranger who created the sound of vocal choirs performing customarily but without words and lyrics. Women in the vocal group doubled with the band's trumpet section and men with the trombones.
Miller and Columbia Records liked the sound well enough to allow Ray to record an album titled S'wonderful.  It became  a hit recording and gave birth to the Ray Conniff sound that sold Lps in bunches over the years.  Ray Conniff became important contributor to beautiful music radio formats of the era.
Remember this LP?
DAVE STRYKER MIXES JAZZ WITH THE HITS OF THE 70S
February 6th, 2014 12:20pm
Dave Stryker
Dave  Stryker, jazz guitarist is a young man I have admired for quite some time.  He came to New York from Omaha, Nebraska and will be surprised to hear that it was  Omaha where we both learned about the hits of the 70s.
Dave Stryker was an Omaha teenager who loved the music of Stevie Wonder, Curtis Mayfield, The Spinners, Earth Wind and Fire and the others during the years I had group responsibility for Meredith Corporation's WOW, our Omaha AM station capably programmed by Tom Barsanti.  Barsanti's job was to keep the hits of the 70s playing and young people like Dave Stryker listening.  Barsanti did his job well.
Today, I received a copy of Dave Stryker's new CD, "Eight Track" sent to me by Jim Eigo.  In this new release for Strikezone,  Dave plays his eight track favorites from the 70s with the support of sidemen Stefon Harris, Jared Gold and McClenty Hunter.
WOW, Omaha played these same hits and Dave Stryker as a teenager loved them then.  And he and loves them enough now to refashion them with Jazz interpretations.
How strange it is how things change yet always remain the same. My creation of Big Bands Ballads and Blues mixes Jazz and the Great American songbook Standards from Broadway and Hollywood thereby keeping them alive.  Dave Stryker mixes Jazz with the Standards from the 70s keeping them alive, too.
Here's a great Dave Stryker Jazz interpretation of the Spinners' Standard from the 70s, "I'll Be Around."  Good Get, Dave!
REMEMBERING BEN WEBSTER
February 5th, 2014 11:54am
Ben Webster on Tenor Sax
In Duke Ellington's biography,  former band member A. H. Lawrence,  painted the picture quite accurately.  But it didn't seem right. What had gone wrong?  It was 1947 and the big bands were going out of style.  Woody and Basie disbanded.  So did Charlie Barnet and the others.
By 1949, Ellington was the only band working and by default, he was the winner of the Downbeat magazine poll. The ballrooms were closing and movie theaters were playing to dwindling audiences as television began to cause folks to stay at home.
The answer for the movies turned out to be major big screen, big budget Technicolor  spectaculars that pulled the couch potato away from black and white Television.  Sure, stay at homes watched sports, live dramas like Playhouse 90, old movies, cowboys and comics. However, movies like Ben Hur, The Ten Commandments and the others on giant screens with Color, Cinemascope and Cinerama tore the TV viewers away from home and brought new life to the screen.
However, big bandleaders had no  answers when Frank Sinatra, Peggy Lee, Patti Page, Mel Torme, Perry Como, Dick Haymes and the others walked off the bandstand and became stars in their own right.
Meanwhile, Bop was replacing Swing and the small jump bands in  up-close venues became more exciting and brought the audience closer to the musicians.  More expensive ballrooms went dark and the small clubs became the rage.
The spots on Swing Street, West 52nd Street in New York City and similar venues were the perfect places for former big band musicians like Benny Carter, Johnny Hodges, Roy Eldridge or Coleman Hawkins to put together small groups. And, there were the younger guys…Diz, Miles, The Bird, Clifford Brown, Monk and the rest. It was their time.  The Be-Bop revolution with groups consisting of five to seven musicians were all the clubs needed to attract sit-down audiences who kept the bar working all night.
The record industry made matters worse for the bands when James C. Petrillo, president of the American Federation of Musicians announced a ban on recordings for union members.
A cappella arrangements by vocal groups supported backgrounds for individual singers.  In a shortage of musicians, the singers took over the recording industry and the radio.
But, Jazz survived and so did Ben Webster.
Once a member of Ellington's best sax section that included Barney Bigard, Harry Carney, Johnny Hodges and Paul Gonzalves, Gentle Ben Webster became one of the stars of the smaller groups. Here's an example of Ben Webster's remarkable tone and gentle mood.
TEN DAYS IN FLORIDA AND A STEVE TYRELL PERFORMANCE AT THE COLONY
January 30th, 2014 11:36am
Steve Tyrell
We just returned from ten days in Florida amazed at the cold snap that has jarred much of the southeast. Arriving home last night in 14 degrees of  pain-in-the forehead cold, we nevertheless made it to the car and headed home to our toasty-warm house capably cared for in our absence. We got home in time to watch the Syracuse basketball team beat down the pesky Wake Forest Deamon Deacons.
The Colony in Palm Beach
One of the highlights of our vacation was catching Steve Tyrell at the Colony in Palm Beach. Manager Rob Russell had a packed house and was his always welcoming self.  Steve sang many of the Songbook favorites to an overflow crowd and we  had a chance to chat briefly after the show.