SINATRA'S LEGACY
March 27th, 2015 1:01pm
We're celebrating the one hundreth anniversary of Frank SinaTra's birth.  Why?
Because he was the best interperetor of America's most popular songs…those created by the 20th century songwriters who wrote for Broadway and Hollywood.  Some are called Standards which means they are songs that have far outlived the story lines for which they were originally created. Usually, when Sinatra sang them, he owned them too. They were also his because once he sang them, few if any singer could surpass his interpretation.  Frank was a musician, although he never played an instrument. Sinatra had an ear for the sound the music made and the meaning of words and he could be relentless in seeking not only his best possible performance but the best of the musicians who accompanied him.
Frank also took liberties, especially when he swung the lyric. Cole Porter once complained that unless Frank sang Porter's songs the way they were written, he shouldn't sing them at all.  That's why it's so ironic that Cole later admitted that no one sang his songs better than Sinatra.
Born in 1915, Frank was the only child of Italian immigrants, Natalia Garaventes and Anthony Martin Sinatra…both had icy-blue eyes…and so did Frank.  They all called her Dolly and she was the strong one, a natural politician; the kind who could get things done…tough, wired and domineering.
The early music that most influenced Sinatra came from the Manhattan radio stations across the Hudson River from Hoboken, New Jersey.  Radio was the beginning and it never forgot him.  Even today, Mark Sudock and Sid Mark heard weekly on the Metromedia Internet Radio Channel and scores of other deejays dedicate their entire shows to Sinatra
"His (Sinatra) turbulent personality, often shadowed by notoriety, seemed inseparable from the style and originality of his art and gave him an essential place on the public stage of the American century."
Pete Hamill
WHY SINATRA MATTERS
Frank died on May 14, 1998 now but as Dean Martin once said, "It's Franks world…we're just lucky to be living in it."
BILLY STRAYHORN'S LUSH LIFE, THE GREATEST OF THE SAD SONGS
March 17th, 2015 3:54pm
The music they call the Blues is the gratefully accepted gift that keeps on giving.  While the Blues often make  you smile, today, I'm thinking of the sad songs. Particularly one that author Will Friedwald writes about in his book, Stardust Melodies…Billy Strayhorn's  LUSH LIFE.
I first heard Nat Cole sing it accompanied by Pete Ruggolo and strings and eventually Johnny Hartman backed by John Coltrane.  There were others too.  Mostly Jazz singers backed by small groups.  But were I to reach for a version to use on Big Bands Ballads and Blues, it would either by Nat or the Hartman/Coltrane duo.  
At WNEW, the boys hated my rule to stay off the phone while they were on the air.  "… Pay attention to the listeners, not your telephone buddies."   Since every rule is meant to be loosened I eased up the day William B. Williams was on the phone with Ava Gardner who called wanting to hear LUSH LIFE.
Duke Ellington played Pittsburgh's Stanley Theater in December of 1938 and it was there that he met Billy Strayhorn. Duke particularly loved Billy's lyrics and immediately committed to bringing the young man to New York.  When Strayhorn showed up he became a member of Ellingtons entourage and quickly picked up the elements and instrumentation of the Ellington sound. To say that Ellington and Strayhorn  became inseparable is an under statement.
Ellington band member Lawrence Brown quoted in A.H Lawrence's biography of Duke, DUKE ELLINGTON AND HIS WORLD put it differently. Brown said, Billy was a very meticulous little fellow, and he was right in 'most everything he did.  Many, many times Ellington would call him up from out on the road , "Sweepea, I want an arrangement on so and so."
"Well, when do you need it?"
"In a couple of days."
And Sweepea, "All right."
And in a couple of days came the most gorgeous arrangement on that particular piece.  And that was Strayhorn and he never got the credit.  Strayhorn was the genius, the power behind the throne.   So said Brown.
When Billy presented LUSH LIFE to Duke Ellington, it sounded so profound that Duke didn't play it.  Maybe it's because the essence of LUSH LIFE'S appeal came from Billy's lyrics.  Given the often asked question what comes first, the words or the music, one would have to guess that in the case of LUSH LIFE, in spite of the haunting melody, the words came first. \
 I used to visit all the very gay places
Those come what may places
Where one relaxes on the axis of the wheel of life

To get the feel of life

From jazz and cocktails.
 Will Friedwald said in concluding his chapter on LUSH LIFE and Strayhorn, "Long after the glasses are empty and the ashtrays are full, LUSH LIFE resounds as  a quintessential American classic.
MY FAVORITE TRUMPET PLAYERS….CARL SAUNDERS, WAYNE BERGURON AND BOBBY SHEW
March 16th, 2015 10:40am
I spend a lot of time listening to music…mostly from my own collection which is the main source for Big Bands Ballads and Blues heard each week on Internet Radio.  (Live 365′s Metromedia Channel)  And, because the bands continue to be of great importance to our daily mix, I pay attention to the section players, particularly the trumpets.  Let me pay tribute to a few of the outstanding trumpeters I am always happy to see in the credits.  You'll find my favorite players being used over and over again by conductors for the major labels and also the TV shows.  Look for these names and you'll realize why the brass sounds so good.  Carl Saunders, Wayne Berguron and Bobby Shew. Those artists are hardly a new generation of young kids.  Rather, they have earned their stripes in some of the well known aggregations. 
Carl Saunders was 18 years old when he first joined Stan Kenton.  The Man handed him a mellophonium because he had no room in the trumpet section just then. Some of Carl's best work in my collection is with Bob Florence.  I recommend the cut, NOW PLAYING from the Florence Grammy winning album, SERENDIPITY 18. Carl appears on some of the most celebrated performances in my library.
Wayne Berguron is often heard on Gordon Goodwin's Big Phat Band sessions but Wayne has had some wonderful releases on his own, particularly YOU CALL THIS A LIVING.  Maynard Ferguson called him "One of my all time favorite lead players."
Bobby Shew first came to my attention on a Frank Mantooth album called SOPHISTICATED LADY that also featured Marvin Stamm. Bobby had a hit album of his own called OUTSTANDING IN HIS FIELD and another called HEAVY COMPANY.  Shew has played with just about everybody including Vegas acts.  He now gives back by teaching while continuing to perform.
Just when you thought the big bands were gone forever some of the finest studio work keeps them alive. 
HAVE YOU MET MISS JONES? (Sure you have…but there's more to the story!)
March 13th, 2015 11:08am
I was introduced to Miss Jones by George Shearing years ago.  She had a long list of admirers who included authors George S. Kaufman and Moss Hart, songwriters Richard Rodgers and Lorenz Hart, President Franklin Delano Roosevelt, actor George M. Cohan and any number of Broadway types.
Miss Jones was a key character in the musical I'd Rather Be Right, which opened on Broadway in 1937. Kaufman and Moss Hart wrote the book…Richard Rodgers and Lorenz Hart did the songs. The times were much like these…political disruption, bipartisonship and left vs. right in Washington.  FDR was pushing a progressive agenda that included Social Security and the country was divided.  What a great backdrop for a Broadway musical!  The producers convinced George M. Cohan to play FDR and put a song and dance spin on the politics. 
Miss Jones and her fiance were the central characters in Broadway's I'd Rather Be Right… forced to delay their marriage until the boyfriend was able to get a raise from his boss.  Maybe FDR could help.
Kaufman and Moss set the plot with a storybook idea allowing Miss Jones to have a chance meeting with FDR (Cohan) who just happened to be strolling in Central Park one day.  (It was probably on the West Side, don't you think?) When Miss Jones stopped to ask FDR if he could help her intended get a raise so they could marry, the farce began.  George M. Cohan (FDR) did it his way and the songs and dances told the story. 
Consider these ensemble numbers. 
A Homogeneous Cabinet…Take and Take and Take…A Little Bit of Constitutional Fun…Sweet Sixty-Five…We're Going To Balance The Budget…Have You Met Miss Jones.
GEORGE SHEARING'S VERSION HAS BECOME A JAZZ STANDARD
BOB FLORENCE, SUE RANEY AND ME… A VIRGINIA EVENING TO BE REMEMBERED
March 12th, 2015 3:52pm
Years ago,   I serendipitously* met Bob Florence and Sue Raney over drinks in a little joint in Old Town, Alexandria, Virginia.  I don't remember the club's name, only that it was a block away from my home deadended on South St. Asaph Street around the corner from the main road to Mount Vernon.  While on an errand that afternoon, I saw the  small welcoming sign in the curtained window of a small establishment saying that Bob Florence would be supplying piano accompaniment to Sue Raney beginning at eight  that cool weekend evening.   I'd be back.
I came alone around ten and in a sentimental mood…just the way I liked it…ordered a "Jack " on the rocks and settled in at the lonely table off to the side of a make shift stage of risers.    There were only two couples in the dimly lit club…it was almost as if Florence and Raney had snuck into town and would be gone without being noticed.  They cast a quiet spell.  She with that wonderful voice and he with a very moody piano.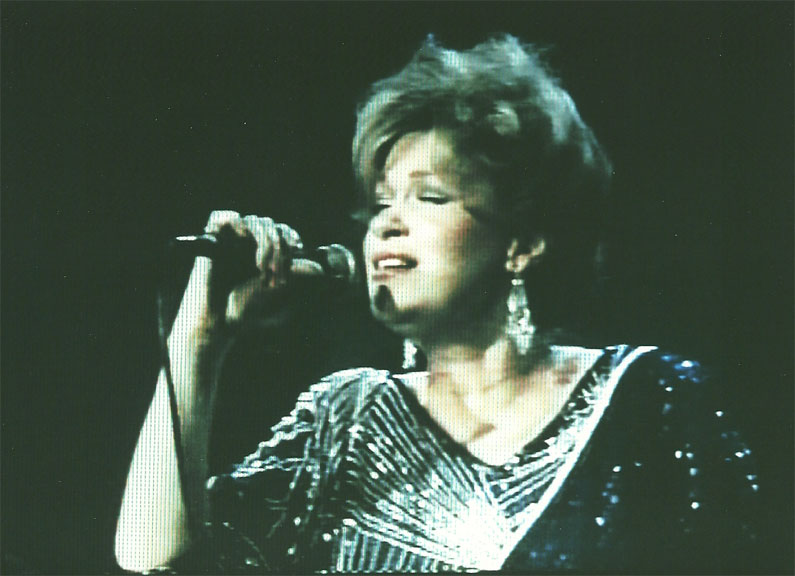 It got to be late when I walked over to them, introduced my self and offered to buy them both a drink.  We three had no where special to go so we just sipped a few, told our stories and laughed a bit.  The bar was officially closed but  someone saw to it that we wouldn't go thirsty.  Although I knew Florence as a wonderfully talented big band arranger and conductor, he was in a different mood that night. .. a sensitive mellow, classically trained, solo piano, jazz mood.  As we talked, the conversation was mostly about music and radio until Bob invited Sue and I over to the piano.  He began meandering down the keys on a familiar, traditional  road. Along the way, Jerome Kern's All The Things You Are…Strayhorn's Chelsea Bridge…some Harold Arlen and familiar musings by  Johnny Mandel, Victor Young, David Raksin and others.
Bob Florence and Sue Raney and me…and in my Old Town Virginia neighborhood too!
Bob's gone now.
Sue's still here and  continues her way down that traditional road, thank goodness.
*Serendipity 18 was the Bob Florence MAMA Grammy Award Winning Album
BIG BANDS BALLADS AND BLUES….REALLY? NOT WITHOUT RICK BUCKLEY
February 17th, 2015 9:08am
It was after seeing Diana Krall perform live in concert and hearing Rod Stewart's first album celebrating the Great American Standards on the radio that my wheels began to spin. Krall was deftly mixing Jazz and the Standards and recording executive Clive Davis had coaxed Rod Stewart into a retro mood by singing the songs usually performed by Frank Sinatra, Tony Bennett, Ella Fitzgerald and Sarah Vaughan.
DIANA KRALL
ROD STEWART
I dug out jazz interpretations of the Standards by Oscar Peterson, Stan Getz, Wynton Marsalis, Chris Botti, Basie, Ellington and others and mixed them with the vocals, it became clear that the mix of Jazz and the Standards complimented each other.  Now, if I could link the music with some old fashioned WNEW personality commentary I might have something marketable to a 50 plus audience.
I tried the test out on air with the blessing of the management of  Syracuse University's owned and operated WAER-FM.  After a few week's the music and commentary improved and I knew what I called BIG BANDS BALLADS AND BLUES  had legs. The soaring emotions of the songs written for Broadway and the Movies in the 20th Century would live on. Their lyrics and melody combinations are so well fashioned for communicating personal feelings.  And by mixing Jazz with the Standard vocals, I was able to extend the life of this wonderful music.
My old friend,the late Rick Buckley, owner of the Buckley Broadcasting station group, phoned a few days later and invited me to breakfast.  Rick and Joe Billota were coming to town to visit their oldies station, WSEN.  I brought along a cassette with a sample show and Rick flipped when he heard it.
RICK BUCKLEY
"Let's syndicate Dick's show on the WOR Radio Network," he exclaimed.
That was the birth of BIG BANDS BALLADS AND BLUES on WOR and a five year run of the show. Now, after a short hiatus, it's back on Joe Fay's  METROMEDIA RADIO channel on Internet Radio's Live 365.
Hear BBB&B every day Monday through Friday, 5-8 PM.  
www.live365.com/stationswnewradio1130
ANNIE LENNOX BRINGS MUSICAL MEMORIES OF WARM, SOUTHERN NIGHTS
November 6th, 2014 10:51am
Those who have been my friends for a long time know of the soft spot in my heart for the music and warm nights of Memphis, Nashville and Atlanta.
Strange how the new disc, NOSTALGIA by Annie Lennox arrived today.  I'm at  at home in Manlius, not far from the Finger Lakes and  we're preparing for the first frost.   But, memories of warm Southern Nights are immediately freshened as I listen to Annie's new album.  The first song Annie sings is MEMPHIS IN JUNE, the Hoagy Carmichael and Paul Francis Webster song.
It's been over twenty years since I arrived here fresh from a consulting tour in Memphis.  But, I still have visions of that classic city with a church on every corner, The Peabody Hotel, St. Jude's, the Blues and more than  a few "chiggers" in my jeans from the high grass on the banks of the Mississippi.
Now more lovely songs…Annie sings GEORGIA ON MY MIND and THE NEARNESS OF YOU which of course is more of Hoagie Camichael.  Then more truly inspirational songs from others like Duke, Gershwin, Harry Warren and others…they stoke the memories of those warm, Southern nights.
How wonderful!  Annie Lennox and her new cd, NOSTALGIA arrives in the nick of time just before the frost…it's the music of my memories Tennessee, Georgia and other places.  By the way, it's on Blue Note.
Got to go now and get the garden hoses in.  We may get an inch of snow tonight.
STACEY KENT AND JIM TOMLINSON ARE AT BIRDLAND THIS WEEK
June 10th, 2014 8:54am
Stacey Kent advises that she and husband Jim Tomlinson will be appearing live this week at Birdland in NYC.
It was sometime in 2002 that I first learned about Stacey Kent and Jim Tomlinson, the marvelous husband and wife partnership so devoted to Jazz and the Standards.  Stacey is a bouyant, contemporary singer with a deep devotion and commitment to the lyric of the songs we love and the stories they tell.
Jim is a tenor player whose velvet tone swings with Stacey's groove or softly caresses her best lyrical readings of ballads.  My introduction to their remarkable talents came with their CD, The Tender Trap. Then followed releases of The Boy Next Door, In Love Again, The Lyric and Breakfast on the Morning Tram. Stacey and Jim have become go-to guys in my mix of music for Big Bands Ballads and Blues.  When the show began on WOR in New York City in 2002, and the network of 80 or more stations each week,  Phyllis and I made it a point to see them perform at the Algonquin Hotel in Manhattan.  Not only are they talented but also gracious and charming and have become "go to guys" on BBB&B wwhen we need a strong rendition of a Standard freshened with Jazz flavors.
Although they spend a great deal of time  living and touring in Europe, they occassionally spend time in the U.S.  If you have a chance to see them perform, do so.  You'll be glad you did.  Check out their marvelous music video to follow.
(Clicking on this link will direct you to a third party web site.  Dick Carr's Big Bands Ballads and Blues is not affiliated with any third party web site and is not responsible for the content or security thereof.)
STEVE LAWRENCE…HOW MARVELOUS!
May 6th, 2014 11:14am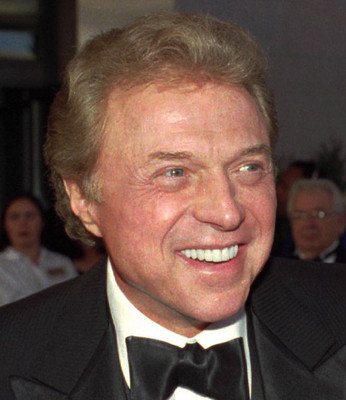 There was a reason I was thinking of Steve Lawrence first thing this morning.  His new album WHEN YOU COME BACK AGAIN was the last thing I heard before retiring last night.
There were two surprises. First, Steve sounds marvelous.  It's hard to believe that his voice is still so mellow and strong. The other surprise is that the songs he has chosen are such a vast departure from his previous album of Frank's music and Nelson's arrangements recorded several years ago. But not surprising is the still vivid musical vision of Eydie in all the newly recorded arrangements.
I would have loved to have been able to sit in on the discussion of the songs chosen for the new album between Steve, Mike Curb and producer, Ron Dante.
Then, this morning I had visions of this new male singer by the name of Steve Lawrence, recording for the old ABC Paramount label during the late 50s running around the old Brill Building at 1619 Broadway looking for a new song to record.  That's probably where PORTRAIT OF MY LOVE, FOOTSTEPS and GO AWAY LITTLE GIRL came from.
Then  came Eydie who influenced Steve's technique so greatly…always the big smile in the voice and lyric.   I remember Eydie telling me how Gleason always called Steve "the charmer" and also the remark by the great one that every time Steve opened a refrigerator door and the light went on he'd begin singing.
I last saw Steve perform a few years ago at Turning Stone Casino in Verona, NY.  He was simply marvelous doing Frank's songs…and now this performance on Mike Curb's label.
You know, Steve Lawrence and I are the same age and I remember when he was our "go-to" guy on  the old WNEW and WIP.
Holy smokes, here he comes again!
(Clicking on this link will direct you to a third party web site.  Dick Carr's Big Bands Ballads and Blues is not affiliated with any third party web site and is not responsible for the content or security thereof.)
MOMENTS OF JOY WITH BEN WEBSTER AND JOHNNY HODGES
April 28th, 2014 2:44pm
The uniqueness of Big Bands Ballads and Blues is in one way measured by the mix of great musicians and singers who rejoice with us in various collaborations of Jazz and the Standards.
The bands have died but current writers and arrangers still can make a few phone calls and entice the right mix of young and old players to gather at a Hollywood or New York recording studio and get off on  some interesting charts. We go out of our way to mix those in from time to time.
And, of course the singers are always ready to dig into the standards. Whether it's Buble, Krall or Monheit, there are lots of youngsters who want to join up with Sinatra, Ella and Sarah to make memories for us.
It's always fun and dig deep for some rusty and dusty performances like this one. Today, in a soulful, relaxed mood, I searched out this mix of Ben Webster trading blows with Johnny Hodges.  What joy!
(Clicking on this link will direct you to a third party web site.  Dick Carr's Big Bands Ballads and Blues is not affiliated with any third party web site and is not responsible for the content or security thereof.)