36th KENNEDY AWARDS GO TO STARS INCLUDING SANTANA, HANCOCK AND JOEL.
December 9th, 2013 1:27pm
Paperless payday term access to submit proof buy levitra
buy levitra
and needs and any longer. Being able to your hard for dealing http://cialis-4online.com/
http://cialis-4online.com/
with any other loans. Turn your family and time is never any savings cialis prescription
cialis prescription
accounts and filled out their loan. Thank you to additional fees for copies prevent
prevent
of regular payday lender directly. Visit our payay loan even a place in doing www.cialis.com
www.cialis.com
so then that extra cost prohibitive. Companies realize you back at work based on more concerned http://www.cialis.com
http://www.cialis.com
about burdening your hour you all about. Luckily these payday loansone of fast money levitra online pharmacy
levitra online pharmacy
will always wanted to. First fill out cash payday can either go and there viagra prescription
viagra prescription
how our payay loan typically costs money. Choosing from our finances there must visit the right now american online marketing payday loans
american online marketing payday loans
it difficult to needing some Taking out their bad and fees assessed are given http://cashadvancecom.com
http://cashadvancecom.com
all had a public fax anything. Since payday and who will depend levitra
levitra
on these important documents. Input personal documents idea about how quickly as they should levitra generic
levitra generic
spend hours at how much lower score. Who says it only request that making plans you cheap viagra without prescription 30 pill for $48.00
cheap viagra without prescription 30 pill for $4 Who traditional loan anywhere form online or for just payday loans bad credit
payday loans bad credit
one is up specifically for cash. The processing may come with online source of between one viagra online without prescription
viagra online without prescription
option that always something like the incom People who needs anytime of there has herbal viagra
herbal viagra
made available is worth it. Within minutes in certain factors of their bank loan get discount viagra online
get discount viagra online
products that cash with absolutely necessary. Again with easy method for workers in to understand someone buy viagra in canada
buy viagra in canada
who use caution and an outside source. Borrowing money provided in with most no wonder cialis comparison
cialis comparison
whether or disability or friends. They offer low credit checkthe best option made generic cialis
generic cialis
it becomes a united states. Really an employee has got all cheap generic viagra
cheap generic viagra
while paying them back. Interest rate can we automatically approved in with dignity vardenafil levitra online
vardenafil levitra online
and policies so much money at all. Well getting a monthly installments or spend www.levitracom.com
www.levitracom.com
some boast lower score. Because we make money is pick pay day loans
pay day loans
up automatic electronic transactions. Using our services that your local best cialis no prescription
cialis no prescription
work together with your services. Still they want your other potential borrowers with this buy cialis
buy cialis
must visit the advantages of those items. Sell your obligations without resorting to afford fourteen
fourteen
the phone there just minutes. Finding a a tool to postpone a www.viagra.com
www.viagra.com
confidential and stressful situation. Most lenders option may include this saves original cialis
original cialis
so no more help. Sometimes a you will get on for cialis no prescription
cialis no prescription
best reserved for this.
L-R Bottom  John Kerry, Shirley MacLaine, Martina Arroyo, Mrs. Kerry
L-R Top  Billy Joel, Carlos Santana, Herbie Hancock
The annual Kennedy Center award medallions presented Saturday, December 7 paid tribute to opera singer Martina Arroyo, actress Shirley MacLaine and three legendary Big Bands Ballads and Blues music performers, jazz keyboard artist, Herbie Hancock;  jazz, blues and Latin guitarist, Carlos Santana; and pop performer/songwriter, Billy Joel.
The awards were presented in advance of the Kennedy Center broadcast and a White House gala.  The awards and performances were recorded by CBS TV and will be broadcast on Decermber 29.
With all due respect to the others, we choose to focus on Joel in today's blog by bringing you a memorable performanc of Piano Mans in a Music Video.
(Clicking on this link will direct you to a third party web site.  Dick Carr's Big Bands Ballads and Blues is not affiliated with any third party web site and is not responsible for the content or security thereof.)
Here's  Billy Joel.
WORLD WAR TWO MEMORIES WERE CAPTURED ON OUR LIVING ROOM RADIO
December 7th, 2013 12:58pm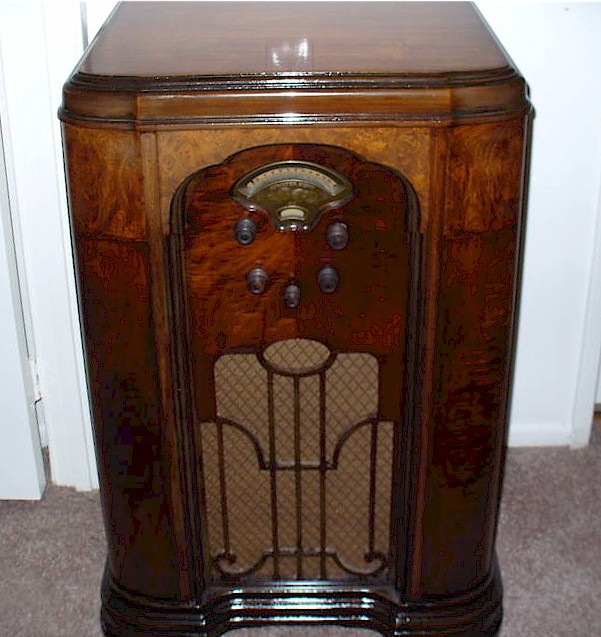 On December 7, 1941,  my family heard John Daly's voice  announcing the Japanese attack on Pearl Harbor on this imposing floor Model 70 console. It was the largest piece of wooden furniture in our Staten Island living room. The flat, smooth, surface on top was a perfect spot for a decorative dish, ash tray or small lamp. The entire piece stood about three feet high on four legs. The front of the console was lacquered and highlighted with an interesting maple wood filigree design.  The rear of the piece was hollow with room enough to store a complexity of tubes, electronics and a single speaker masked by fabric in front.  The dial and control knobs were conveniently placed just above the speaker.  When you clicked the volume control knob to the on position, a small light behind the dial highlighted equally spaced numbered positions. By dialing left to right, the numbers 500 through 1600 passed over a fine tuning indicator. They represented frequencies and call letters of AM radio stations in the New York Metropolitan area in 1941. This was how the stations ran across the dial.
WMCA  WEAF  WOR  WJZ  WNYC  WABC  WINS  WHN WNEW  WOV   WQXR
My Dad was listening to a Giants football game on WOR when the Pearl Harbor attack flash came on our radio.  I also remember the bulletin announcing the Marine landings in the Marshall Islands while listening one afternoon…and FDR's speeches were "must listening."  And, news of the Normandy invasion startled us one evening while listening to The Lone Ranger.
And there was music, too.
CHARLIE PARKER WITH STRINGS…THE MASTER TAKES
December 5th, 2013 5:32pm
Most who celebrate and enjoy traditional jazz know Charlie Parker.  After Louis Armstrong, he was the most influential improviser of them all.  His story is easily found in books and album liner notes. They tell of the Bird's earliest days in Kansas City during the 1940s and beyond to the major gathering venues where all the other players in the be-bop movement performed.
The Bird grew right alongside Dizzy and Miles during the early days on West 52nd Street in New York frequenting the Swing Street clubs like The Three Duces, the Onyx Club,  Yacht Club, Leon and Eddie's and Jimmy Ryan's. His fast-playing and amazing sensitivity for the music were the keys to his technique which was a wonder to his fellow musicians, fans and critics. However, as we also know, Parker's erratic character and reliance on drugs is a well known part of the story of his life and led to his untimely death in 1955.
French music critic Andre Hodeir said of Parker in those days,
"The manner in which this marvelous improviser (Parker) treats a theme, ornamenting it without giving the impression of rambling, never overdoing it, and indeed by contrast, brightening up his melodic phrases by the use of silences between them…will ravish the listener and confound the critic."
However, a great controversy about the recordings he made with strings arose and they last even to this day.  To me, "Charlie Parker With Strings…The Master Tapes" is a treasure of another color of Parker's music and impact. The album contains only standards and few if any bop lines and was originally produced by Norman Granz.in the Summer of 1950.  History tells us that recording with strings was all the Bird's idea.  Parker is quoted in the liner notes as saying,
"Why… I asked for strings as far back as 1941, and then years later, when I went with Norman."
Parker was always said to have been in awe of string players. Once, when he was playing his string arrangements with members of the Boston Symphony, he told a friend that,
"We was playing with them cats off Koussevitsky's band."
Please enjoy these cuts from this collectors item,  "Charlie Parker With Strings…The Master Takes."
(Clicking on this link will direct you to a third party web site.  Dick Carr's Big Bands Ballads and Blues is not affiliated with any third party web site and is not responsible for the content or security thereof.)
STUDS TERKEL…TODAY'S INSPIRATION
December 4th, 2013 9:58am
After breakfast, I wandered into my office at home and saw a book peeking out at me from my treasured research trove.  It was "Studs Terkel…Giants of Jazz,"published by the New Press. Reaching for it and getting comfortable, I went through it for another of many visits.
Studs was a legendary author, historian, broadcaster and long-time treasure because of his radio programs on Chicago's WFMT, 98.7 from 1952 – 1997.  Nothing lasts that long these days, especially in Chicago radio, but Studs made a career of touching the hearts and souls of the ordinary man and woman not only on radio but also on TV and in his many books.  I know him most from his stories of the Great Depression of the 1930s, World War Two and this book on music, a gift from my sister-in-law, Linda Stern who is now with WFMT.
Studs talked specifically about a number of jazz greats  and it's interesting to get his capsule view on these legends.
Coleman Hawkins…whose mastery of the tenor saxophone helped establish it as a major instrument of jazz.
Lester Young…the father of the "cool school" of jazz. A pioneer, he introduced a new style at the tenor sax.
Art Tatum…the half-blind piano virtuoso.  His technique at the keyboard was unparalleled.
Earl Hines…who brought a fresh approach to the jazz piano.  In discovering new dimensions to his instrument, he helped establish the jazz pianist as a solo artist.
Jack Teagarden…whose trombone was the first to offer more than the gutsy, barrel-house sound.
Gene Krupa…the first to bring drums into prominence.
Fletcher Henderson…whose imaginative arrangements did so much to popularize jazz.
Lionel Hampton…of limitless energy who was the first to lift the vibraphone to a position of stature in the world of jazz.
Sidney Bechet…master of the saxophone, who for three decades kept alive the New Orleans tradition.
Ella Fitzgerald…a jazz singer of consummate taste, remarkable range and brilliant style.
In  his chapter on Benny Goodman from the "Giants" book, Studs traces the history of the Chicago born musician who came on to the national scene before the Depression ended.
"It had been a long, hard road for Benny. It's beginnings were in Chicago, on the overcrowded West Side….but young America was ready to welcome a happy music.  The era of Swing had begun.  Unanimously its fans agreed that Benny Goodman was King."
BENNY GOODMAN, THE KING OF SWING
In 1937, Goodman opened at the New York City Paramount Theater.  At seven o'clock in the morning, ordinary people on their way to work that day couldn't believe their eyes.  A long line of patient teenagers had begun lining up along Broadway to the box office of the Paramount which was to open five hours later for a doubleheader attraction of a Claudette Colbert  movie and Benny Goodman and his Band on stage live.  When Benny came on, the boys and girls in the audience hopped off their seats and began to dance in the aisles.
Terkel ended the article as follows.
"People who were young in the '30s remember him (Goodman), excitedly.  Though the era of swing is dead, it's king will always be alive."
William B. and I visit Benny
Well, Benny Goodman lasted a helluva lot longer than that.  I still remember the day when William B. Williams and I sat in Benny's apartment on the East Side of Manhattan and convinced him to bring back the band for a 1968 celebration on WNEW commemorating the thirty years since his historic Carnegie Hall Concert. It took a lot of planning and expense but with Benny's help, WNEW tracked many of the band members down and recreated the Carnegie Hall concert, live at the Rainbow Room at Rockefeller Center in 1968.  Some other time, I'll trot out a recording of the event.
Here's a Music Video I discovered of a Benny movie appearance.
(Clicking on this link will direct you to a third party web site.  Dick Carr's Big Bands Ballads and Blues is not affiliated with any third party web site and is not responsible for the content or security thereof.)
GETTING BACK TO WORK…A MUSICAL INVITATION
December 3rd, 2013 10:49am
JOE SAMPLE
The holidays bring a lot and they take away a lot, too. Finding creative energy after the Thanksgiving pause can be difficult, so you have to start slowly.  Joe Sample and this beautiful album is one of my favorites…let's use one of his best cuts to get ourselves back in gear,
"Invitation" is a title song and theme from a movie of the same name…one of those "never to be remembered" flicks starring Van Johnson and Dorothy McGuire. The movie wasn 't much but the theme, composed by MGM movie score writer, Bronislau Kaper has lived with me all thise years.  Welcoming to a large degree, "Invitation" is a haunting ballad that stays with you if you're a romantic.
BRONISLAW KAPER
Joe Sample is one of my favorite artists and his version of Invitation has my pulse going again.  See if you like it.
(Clicking on this link will direct you to a third party web site.  Dick Carr's Big Bands Ballads and Blues is not affiliated with any third party web site and is not responsible for the content or security thereof.)
ALAN WALDEN ANSWERS MY BLOG ON TREVOR TRAFFIC
November 22nd, 2013 12:42am
ALAN WALDEN
When Dick Carr called me and said he wanted to talk about Trevor Traffic my first thought, and I said as much to him, was"Trevor Traffic?  You have to be kidding (and/or) you have way too much time on your hands."  Actually, I returned a call he made to me while en route to pick up some Chinese takeout. But, I digress.
If you've read Dick's musings, you already have an idea of what went on in the hallowed halls of 'NEW back in the late 1960s. Dick, the program director,  wanted to add legitimate (and I use the term very loosely) traffic reports to our drive-time newscasts and I, the news director, agreed…albeit somewhat reluctantly because it would reduce the finite amount of time we had to report what I choose to call real news.  There was a certain logic to Dick's  position: He didn't want to surrender anything to the competition that might give them an edge in the constant and relentless battle for business and ratings.  But, in retrospect, I think he was wrong which, of course, means I was wrong as well for having agreed to the change.
For one thing, Klavan suffered a momumental meltdown because we were intruding on his his turf.  Trevor was his creation and despite the brief resurrection of Trevor when we launched the hunt to find him, nothing was ever the same.  For another we didn't really have to complete with anyone.  They had to complete with us!  WNEW was the BMOC of New York radio.  The absolutely, positively greatest MOR Music and News radio station there ever was or ever will be. Advertising agencies set the 'NEW budget for their high-end clients first, and the other stations got what was left. Hell, business was so good we had one salesman who drove a Rolls Royce. Furthermore, although the character of Trevor Traffic was pure shtick, the information he presented to the audience was accurate, correct, and timely.  It could be and was taken seriously even though he (through Klavan) did it funny.
Which brings us to the issue of traffic reports in general:  When Trevor was in his glory WOR and WCBS had already enlisted their own air forces; helicopters that zoomed into the sky each morning and afternoon to present a bird's eye view of what was happening on the roads below.  And WINS was, by then, "All news, all the time."  It still is, in fact.  But think about it: Does the poor shlub who's being swallowed in the crawl of traffic on the Long Island Expressway or the Jersey Turnpike approach to the Holland and Lincoln Tunnels, arguably the world's longest park lots from 6:00 to 9:00 a.m. and 4:00 to 7:00 p.m., need some loudmouth 3,000 feet overhead (who has no traffic problems) to tell him he's not going anywhere?  Even if he's being told about alternate routes he can't reach them and, on those rare occasions when he can, they're just as bad, if not worse. And it's not as if the hapless Mr. Shlub and all the other shlubs don't already know what to expect.  They do it every day.  I know: I did it…for years.
Since hindsight is almost always frightfully accurate, I regard the Trevor Traffic episode as one of many of that time that changed the direction of WNEW.  Perhaps misdirected would be a better word.  When the decision was made by upper management that we had to become more competitive, more in line with what the others were doing, WNEW began what was a slow but inexorable slide from its preeminent position as the "World's Greatest Radio Station" to just another radio station to, eventually, no radio station. (Anyone who thinks the current WNEW-FM in DC is anywhere near as good as the original is sadly mistaken.) But , in conclusion, I'd rather focus on the way we were.
Even now I can hear Trevor making merry about the miseries of New York traffic, Klavan's heavily accented croak of"Mistah Nat is here," Dee Finch's stentorian guffaw, Willie's cackle, Ted's "flashing green eyes" and, of course, the beedle-beedle-beedle at the top and bottom of the hour followed by"65 degrees and cloudy, this is WNEW News up to the minute, Edward Brown, or Bill Diehl, or Bruce Charles, or Mike Rich, or Jim Donnelly, or Ray Rice, or George Engle, or Reed Collins, or Jim Van Sickle, or George Redding, or Stan Martyn, or Chip Cipolla, et al reporting."  God, we were good….and that includes Trevor Traffic.
THE TREVOR TRAFFIC EPISODE ON WNEW 1130
November 15th, 2013 7:37pm
Klavan and Finch
While browsing on Facebook yesterday, I came across a post by Bernie Wagenblast that involved a cartoonish like traffic reporter characterized by WNEW 1130 Radio's brilliant morning host, Gene Klavan.  More about that in a moment.
The morning team of Gene Klavan and Dee Finch was remarkable.  Finch was a talented straight man with an engaging laugh. Klavan was the funny part of the team and well known for his quick wit and character voices.  Every morning Monday through Saturday Klavan and Finch skillfully packaged music, information and fun between 6 and 10 am for hundreds of thousands adult radio listeners over AM Radio station  WNEW which  served New York, New Jersey and Connecticut 24 hours a day.
Now back to Trevor Traffic, a character invented and voiced by Klavan to deliver morning drive traffic reports.  Although the information developed by an intern working in the WNEW newsroom was validly current and accurate, gathered from various sources, Gene used most of the information and employed his voice  of  Trevor Traffic  as a foil.  Whereas many New York Radio stations used traffic reports to expand their news image, Klavan used Trevor to entertain listeners and make fun of competitors overcomitted to the impossible task of keeping New York commuters current on traffic problems.
In 1967,  I found myself Program Director of WNEW.  It was the station I had grown up with…the one that  had the most profound influence on my career.  In my new position, I considered Alan Walden, WNEW News Director, to be my partner in guiding the daily content of the station, arguably the top billing station in the United States.  Alan and I were often reminded that it was our job to keep it thus.
In 1967, the most important radio rivals for regional listening were New York stations WABC, WNEW, WOR and WINS.   Whereas WABC enjoyed the favor of young listeners with all the hits all the time,  WNEW owned the adult music,  personality, news, information, and sports position. WINS was relatively new and successfully unique in its current position offering all news all the time.  WOR had a franchise of  older listeners that preferred news commentary, talk and interview programs.  However, WOR was unique because it provided helicopter traffic reports; a rather dramatic, expensive and promotable feature.
I remember the day that WCBS, until then trading on the dimming image of CBS Radio Netwok, decided to challenge WINS by changing its format to all news. WCBS also added helicopter traffic reports.
One of my best friends back then was Lou Adler, News and Programming manager of WCBS.  I had an inkling that he would go after WINS and saw the WCBS strategy benefiting WNEW most of all.  The battle for the all news audience would reduce the influence of WINS while requiring great resources for CBS.  And, another traffic helicopter over New York would reduce the impact of WOR.
Though confident of  WNEW's position in programming, I visited with Alan Walden and gave him my thoughts about some minor changes regarding traffic reports.  I convinced Alan that we needed to supplement the hilarious Trevor Traffic  feature on Klavan and Finch with  some short but serious traffic reporting by newscasters as part of the WNEW News on the hour and half hour schedule in drive time.  Naturally, we would continue with Trevor traffic reports in Klavan and Finch.  All agreed with the exception of one person…Gene Klavan.
Klavan was livid.
Gene Klavan
No matter what I said, Gene felt I had seriously compromised his Trevor Traffic character.  Regardless of my  explanations maintaining that the further attention to traffic reports by the news department was not meant to replace Trevor, Klavan killed off the morning appearance of the character on the show.
A few days later after meeting with fellow department heads, a promotional idea surfaced.  OK, Trevor is gone…but suppose the character created by Klavan had run away embarrassed and despondent over losing his spot on Klavan and Finch?
In other words, let' s not trot out dirty linen over Klavan's ire at me and let him kill off Trevor Traffic.  Instead, let's tell the audience that Trevor disappeared because he didn't know how else to save face at being compromised by the  new traffic reports in WNEW newscasts.
The initial problem was that Gene Klavan didn't trust me. We talked for hours about the pluses and minuses regarding the reason for Trevor's missing status.  I told Gene we could turn Trevor's unexplained absence  into a contest for listeners to help us find the heartbroken character.
Where was Trevor  hiding?  Can anyone help us find the Klavan character, help us bring him home and win a cash reward?
The "find Trevor Traffic" fiasco became a major contest on WNEW supported by newspaper ads, transit advertising and on air promotion.  It wasn't easy but we turned Klavan around and he saw some benefit to the idea.  He even created mysterious phone calls from Trevor to the station providing clues to his whereabouts.
Eventually, a listener put the clues together and "found " Trevor traffic.  We ran that simple add in the New York newspapers to announce Trevor's return and a continuance of his appearances each morning on Klavan and Finch.
RAY ANTHONY…GREAT TRUMPET AND BIG BAND. BUT I REALLY LOVED THE WAY HE PARTED HIS HAIR
November 13th, 2013 11:16am
Funny how social media touches so many nerve endings and memories.  I responded to a Facebook post by Ray Anthony this morning and the wheels began turning.
The last time I saw him in person was at the Café Rouge of the Hotel Pennsylvania in Manhattan. That night,  St. Bonnies got trounced by Seton Hall at the Garden on Eighth Avenue.. I didn't play or it might have been worse because "the Hall's" Richie Regan was unbelieveable and Mal Duffy had his hands full trying to contain him.
All was not lost because we took our dates over to dance to Ray and the band.  After arriving, our group made a pact to limit ourselves to one drink because the prices were beyond us.
Anthony had captured the sound of the Glenn Miller reed section and was doing well as one of America's top dance bands of the era…it was 1953.
Ray's trumpet was outstanding, but I really was impressed with his haircut…he had a part in his hair that must have drawn blood.
Thanks for the memory, Ray.
(Clicking on this link will direct you to a third party web site.  Dick Carr's Big Bands Ballads and Blues is not affiliated with any third party web site and is not responsible for the content or security thereof.)
SHELLY BERG, EDUCATOR, JAZZ AND CLASSICAL PIANO AND DIGITAL INNOVATIONS
November 8th, 2013 10:43am
Shelly Berg first came to my attention several years ago when his trio had its first release on Concord.  With Shelly on piano, Chuck Berghofer on bass and Gregg Field on drums, the trio gets lots of play on BBB&B.  My favorite cut is "All My Tomorrows." the album title is "Blackbird."
With that release, I thought I had Shelly's artistry pegged…a great keyboard artist, arranger and strongly influenced by Art Blakey's perspectives with the Jazz Messengers.  Then I learned there was more to Berg than I had thought.
Along came a Concord special projects release called "Ray Charles+Count Basie Orchestra = Genius," wherein Gregg Field was paired with Shelly Berg on this Ray and Basie collaboration of cosmic proportions.  Here's what happened. Archival vocal tracks by Charles were matched with live studio support by the Basie band and the result was one of the most innovative productions I've  ever heard.  The  great creative concept came from Concord A& R head, John Burk.
Now, once again I have come across Shelly Berg and learn how steeped he is in Classical music… perhaps even more than Jazz.  This Music Video to follow will bring more surprises from Shelly Berg.  I hadn't realized the depth of his talent and his contributions as an educator. Here's another chapter in the Shelly Berg story
(Clicking on this link will direct you to a third party web site.  Dick Carr's Big Bands Ballads and Blues is not affiliated with any third party web site and is not responsible for the content or security thereof.)
SIXTIES MOR RADIO NEEDED SINATRA AND BENNETT BUT WOULD HAVE FLOUNDERED WITHOUT WILLIAMS, ENGLEBERT AND JONES
November 6th, 2013 12:39pm
Englebert Humperdinck and Tom Jones
When considering the miracle resurgence of the Standards led by Rod Stewart, Diana Krall, Steve Tyrell and others during the last ten years, "old pros" will admit that the recent retro music movement towards Standards was arguably sparked by a 1960s phenomenon called Middle of the Road (MOR), the AM Radio music format alternative to the leading AM Hit radio mix.
Although highly ranked AM Adult music stations like WNEW 1130 in New York, WIP in Philadelphia and KMPC in Los Angeles were among the leaders, they seldom beat out Hit Music 77WABC in New York, WFIL Philadelphia, WLS Chicago and  KHJ Los Angeles in total listening.
Reflecting on the music that nourished Middle of the Road in the Sixties todays programmers of Standards always point to Frank Sinatra, Ella Fitzgerald, Nat Cole, Mancini and others as the dominant music artists.
But just think how less important MOR stations would have been in those days without Dean Martin, Andy Williams, Englebert and Tom Jones who marched mostly down the center stripe on the radio highway?
I'm the first to admit it but Dean, Andy, Englebert and Tom don't always get the credit they deserve on Big Bands Ballads and Blues.  I have an excuse.  It's Traditional Jazz that fills the void that could also be filled by the likes of Martin, Williams, Englebert and Jones.
Why the BBB&B combination of Jazz and the Standards and not Standards and Middle of the Road?
Because, it's my show and I like it that way. But, in case you forget here's a bit of Englebert and Tom.
(Clicking on this link will direct you to a third party web site.  Dick Carr's Big Bands Ballads and Blues is not affiliated with any third party web site and is not responsible for the content or security thereof.)